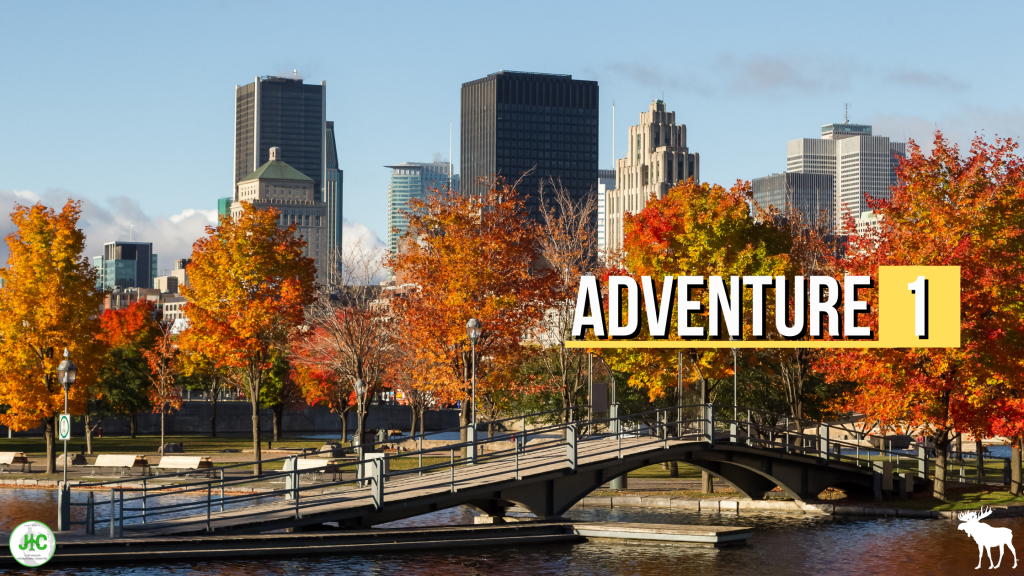 Time to put your ugly slippers back on, get yourself a warm drink and comfy PJs, because as our local winter snow and cold is coming down on Montreal we now also have a stage 4 level alert (red zone). What does that mean, you might ask? Well, to put it simply, it means that you have twice the reasons to stay inside your home, partake in heavy procrastination sessions, fight a roommate or two, watch the entirety of Netflix, eat all the snacks in the house, and much more! It might sound like fun for the introverts of the world, but ask an extrovert and they will tell you that this is what 21st-century torture looks like. Not to mention that it is also unhealthy for you to stay inside. Introvert or extrovert, we are all humans, and humans are social creatures that will go crazy if stuck inside four walls for a long time. So yes, the situation may seem desperate at times, especially when all non-essential businesses are closed- no mini-golf, no clubs, no bars, no gym… Fear not students, because I am here to give you a few ideas on what you could do in Montreal now that it's cold and red, all while respecting the rules and everyone's safety.
Try Out a New Cuisine! It's not because you can't eat on site that you can't do take out
Montreal may be a red zone but not all restaurants are closed, and Uber eats works like magic (trust me). Instead of being bored in your kitchen or eating junk, it is the perfect time to find the little food gems hiding throughout Montreal. One stone two birds. You will discover new food and new flavors (your stomach will thank you… or not), all while getting out of your house. Let me start you off. I have found 10 hidden gems for you to look into during Montreal's red-zone era. Thank me later.
La couscoussière Ali Baba Middle eastern food (1679 St Catherine St E, Montreal, Quebec H2L 4J6, Canada)
Le Nil Bleu Ethiopian food (3706 Saint-Denis St, Montreal, Quebec H2X 3L7, Canada)
Restaurant Joon Caspian and South Caucasus cuisine (7130 Boul St-Laurent, Montréal QC H2S 3E2, Canada)
Bar Mamie Bar, finger food decked with Quebec Ingredients (328 Rue Beaubien E, Montréal QC H2S 1R8, Canada)
31 Latitude American-Chinese (3627 Boul St-Laurent, Montréal QC H2X 2V5, Canada)
Restaurant Kamúy Haitian, pan-Carribbean (1485 Rue Jeanne-Mance, Montréal QC H2X 1Z9, Canada)
Le Petit Vibe Hawaiian and Filipino (5536A Chemin de la Côte-des-Neiges, Montréal QC H3T 1Y9, Canada)
Há Vietnamese (243 Mont-Royal Ave W, Montreal, Quebec H2T 2T2, Canada)
La Cornetteria Modern Italian Pastries (6528 St Laurent Blvd, Montreal, Quebec H2S 3C6, Canada)
Puca Puca Peruvian (5400 St Laurent Blvd, Montreal, Quebec H2T 1S1, Canada)
For more hidden food gems you can check out this article: https://montreal.eater.com/maps/most-underrated-restaurants-montreal-hidden-gems
Go Explore Montreal! Public transportation is still operating.
I don't know about you, but I often tell myself that I would like to go explore Montreal and its surrounding areas a bit more. School and life often get me distracted from that desire. Also, I do not own a car, so unless I decide to rent one, I wouldn't be able to go further than what the STM allows. However, we tend to overlook the range of possibilities an opus card grants us. If you fear using public transportation right now, then you can travel by bike, bixi if you don't own one, or even walk while the weather allows it. Explore your neighborhood(s), because you never know what you might find. Conversely, if you are comfortable taking a bus metro, or train, make sure to come equipped with your mask and hand-sanitizer, all while keeping safe distances. So where to go?! Here are some options:
o Angrignon Park
o La Fontaine Park
o Parc Jean-Drapeau
o Des Rapides Park
o Mary, Queen of the World Cathedral Address: 1085 Rue de la Cathédrale, Montréal, QC H3B 2V3, Canada
o Jean-Talon Market
3. Apple Picking. Classic autumn activity.
Another good reason to head out is to do one of the most iconic Canadian Autumn activities out there: Apple picking! Orchards are still open, and ready to welcome you, even during COVID-19. It's time to go get yourself some fresh apples and a good time. For starter, you can check out the following 3 locations:
Verger Richard Legault Address: 425 Rue Binette, Saint-Joseph-du-Lac, QC J0N 1M0, Canada. Tel: +1 450-623-6306
Verger Pépinière Bord-du-Lac Address: 1530 Chemin du Bord-du-Lac, L'Île-Bizard, QC H9E 1K3, Canada. Tel: +1 514-606-3421
Quinn Farm Address: 2495 Boulevard Perrot, Notre-Dame-de-l'Île-Perrot, QC J7V 8P4, Canada. Tel : +1 514-453-1510
4. Volunteer at the SPCA. Humans aren't the only ones in need.
We all know that what is most important right now is everyone's health, and the solidarity in our fight against the COVID-19, but we aren't the only ones suffering in more than one aspect. Our little furry friends are also at risk. I am sure you can imagine what the many consequences of people losing their jobs have led to. Having to abandon their pets is one of those unfortunate consequences. If you want to help, or you love animals but are not in a situation to give them the home they deserve, and/or just want to take your mind off of your chaotic life, I know the perfect place for you! You can volunteer at the SPCA, you can adopt, or you can foster (if you can) any of our furry friends. The SPCA will thank you, as will the animals in dire need of shelter. Plus, there is nothing better than a kitten or puppy to bring a smile to people's faces!
Link to volunteer for the SCPA: https://www.spca.com/en/get-involved/volunteer/
5. Get A Book. Laptops are overrated.
Let's be real, it's fun to be outside but what can you do with your time inside? In the past few years, you probably haven't had the time to get to the many things that got you intrigued and dreaming… School, responsibilities, social life- All of it takes an unthinkable amount of time, don't you agree? Like it or not, we all have time-consuming responsibilities that eat away at our precious time. However, it doesn't mean this newly acquired free time has to get wasted. You could get wasted… Or, you could finally get to all those personally enriching activities you have been wanting to get to. You could learn more about Canada for example. Start a Business Plan, build a charity for the good of the world, learn more about fashion, architecture, the stock market… You can do whatever you want. You have the internet to do so, though, when was the last time you got a book from the library, outside of school? When you were a kid most definitely, but what about in the past 2,3 years? I can tell you I haven't. And it truly is regrettable, I think. Libraries have a lot to offer and Montreal is full of them. Yes they are still running. Of course you can't go there and stay for hours, however you can still rent books, movies, music, even video games at some locations. Why don't you check it out? Bonus point: It's COVID-19 friendly.
Check out those links for the different Montreal libraries:
https://www.banq.qc.ca/mobile/index.html
https://www.mtl.org/en/what-to-do/heritage-and-architecture/centre-d-archives-de-montreal-bibliotheque-et-archives
https://westlib.org/iguana/www.main.cls
6. EXTRA. Because you deserve it. Now, if none of my suggestions resonate with you maybe this last extra one will. PARTICIPATE IN JIC EVENTS!! It's always free, we have the best events and lots of fun!!
Ressources To stay updated on Montreal's restrictions during covid-19 Check out these links: https://www.mtl.org/en/covid-19 Possible activities:https://www.timeout.com/montreal/things-to-do/what-is-open-closed-in-montreal To see the development of the zones level in Quebec, check out this link: https://www.quebec.ca/en/health/health-issues/a-z/2019-coronavirus/progressive-regional-alert-and-intervention-system/map-of-covid-19-alert-levels-by-region/
X_X